The text on my printed document looks wavy or slanted
This happens when the nozzles on your print head are clogged. You can simply run your printers cleaning utility from your computer to clear them.
The images on my documents are rough and grainy
This happens when the print head is misaligned.
Low ink printer message
Each of our cartridges is filled to the maximum volume with ink. However, it is possible to come across a cartridge that may not have been fully reset during the remanufacturing process. This can cause your printer to read the ink level indicator chip and think the ink level is actually low. To resolve this, you can either bypass the low ink message or disable the ink level system on your printer. This means, however, your printer will not track the ink level on that particular cartridge, but we guarantee it will still print as expected from start to finish.
On certain Epson and Lexmark printers, if the printer is saying you cannot print due to the low ink level, you can press and hold the "stop" or "cancel" button for 10 seconds to reset the counter and allow you to use the cartridges as normal.
My cartridge won't fit
Start by ensuring the cartridges you have are the correct model for your printer.
Once that is confirmed, try following your printer model's instructions step-by-step for installing the cartridges.
Also, ensure the protective covering for your cartridge is removed. The sample pictures below demonstrate this.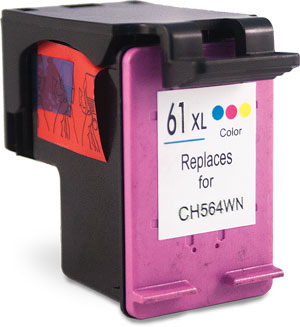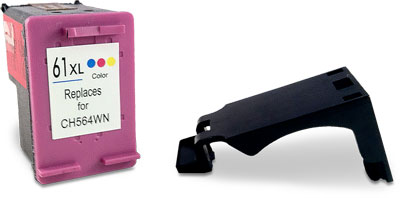 Still having issues or have additional questions? You can contact us through our live chat, online contact form, or toll-free phone number at 833-465-6888.
Cartridges with yellow/orange tape
Make sure you remove the yellow/orange tape completely before installing a new cartridge. Unsuccessful tape removal may cause poor print quality, missing color, and no color printing. Below is an example cartridge that shows the results if the tape is not removed properly (left) compared to one where the tape was removed properly (right).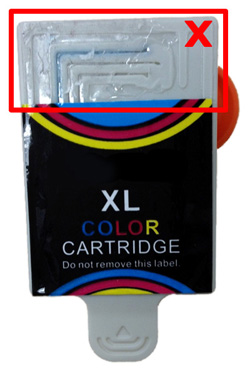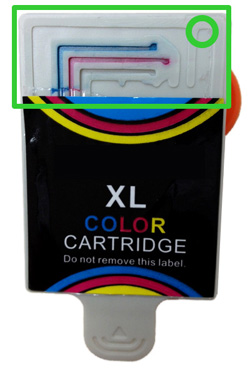 Please note: Some cartridges do not have this kind of tape included with the new cartridge, so it will not apply with all types of ink cartridges.
Cartridge has a slightly different shape
The shape of some models of our compatible cartridges may look a little different from OEM (original equipment manufacturer) cartridges, but they are designed for and will fit in your printer.
If you're having issues installing the cartridge, refer to your printer's instructions for installing cartridges.