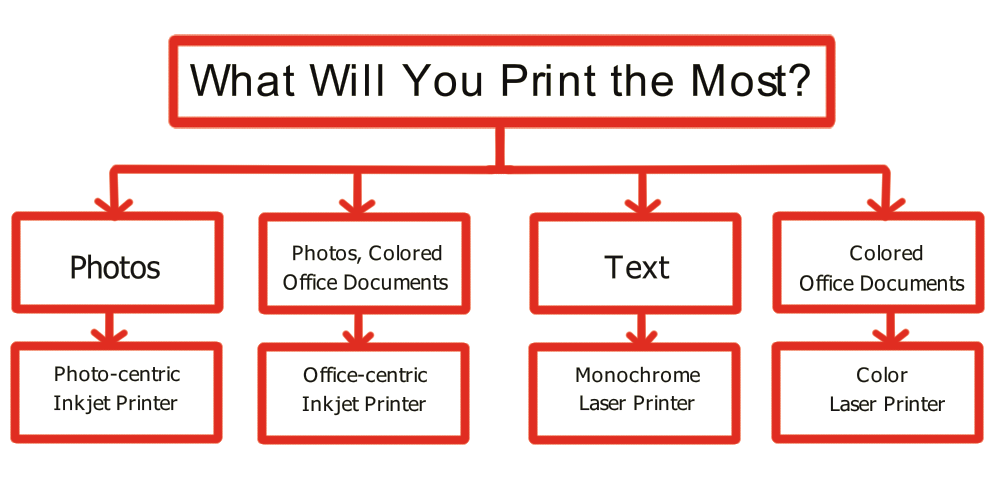 Buying an inkjet or laser printer would depend on your printing needs.
Some users will have more photos printed. Others need colored professional text documents. Others need heavy printing of black and white text.
In order to improve your buying decision among the many printer types, here is an introduction to the types of laser printers and inkjet printers.
Laser Printers
Printer buyers are often pondering between a laser printer vs an inkjet printer. One difference between inkjet and laser printers are their printing mechanisms.
Laser printers melt toner powder into print. Their toner cartridges have a page yield of more than 1,000 pages and are therefore used for heavy printing. Unlike ink printed on paper, toner printed on paper doesn't smear or smudge.
To know how much a laser printer will cost you in its lifespan, click here.
Monochrome Laser Printers
Monochrome Laser Printers are often used for heavy printing of professional and draft format texts.
Color Laser Printers
Color Laser Printers don't have the same photo printing quality as inkjet printers. But they give great image quality for colored professional documents while having high page yield cartridges as monochrome laser printers.
In wondering whether to buy an inkjet or laser printer, a laser printer also has greater cost-efficiency in the long run.
Laser Tank Printers
Laser Tank Printers are laser printers with a higher print capacity than standard laser printers. They are recommended for users with high monthly print volumes of up to 2,500 pages. They also have cheaper cost per page due to cost efficiency of buying toner by the bulk.
One example is the HP Neverstop Laser Printers which have toner cartridges designed for fast reloading and have a page yield of 2,500 pages. Because of its toner bulk, it has comparably cheaper cost per page of $0.04 than most standard toner cartridges.
Inkjet Printers
Another difference between inkjet and laser printers are what they use to print.
Inkjet Printers spray dots of ink to print. The more spray dots a printer prints, the greater is the depth, blending and resolution of the printed images. Compared to laser printer, they give better image quality.
However, their ink cartridges have lower page yield as a lot of ink is used to make great prints.
Another factor to compare laser printer vs inkjet printer is print speed. Inkjet printers print slower than laser printers to allow ink to dry without smearing.
To know how much an inkjet printer will cost you in its lifespan, click here.
Inkjet Photo Printers
Aside from printing high quality photos, Photo Printers have photo-centric features such as being able to print directly from memory cards. They also have large LCD panels for previewing photos. Multi-function photo printers (MFPs) are able to print from slides, negatives and cameras.
Inkjet Office Printers
Office-oriented inkjet printers can still print photos but will not have most photo-centric features mentioned above. Most office-oriented inkjet printers are multi-function printers (MFPs). This means they can have fax, scan or copy features as MFP laser printers have.
In terms of photo quality in color laser printer vs inkjet printer comparisons, inkjet printers give better image prints. Office-oriented inkjet printers are used for photo printing and colored file printing.
Ink Tank Printers
Ink Tank Printers have greater ink bulk for longer-lasting ink supply. Ink bulk may be expensive at first glance, but compared to buying cartridges after cartridges, they have better cost-efficiency.
For example, Expression Premium ET-7700 EcoTank uses EcoTank T512 Combo Pack (CMYK and Photo Black) which has a Cost per Page of $0.006.
Looking for cheap ink cartridges? Feel free to check our printer brand pages for remanufactured HP toner and ink, Epson ink and toner, Brother ink and toner, Canon ink and toner, Lexmark ink and toner or other cheap printer ink cartridges and search for your printer model through the list provided.