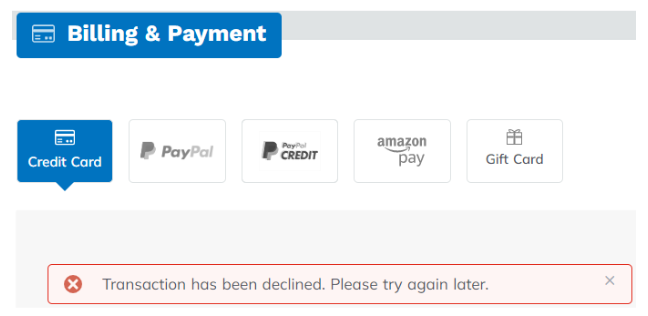 Here at CompAndSave, we received reports from customers such as:
Why is my credit card declined?

Why is my credit card declined when I have money?

Why is my credit card being declined for online purchase?

What causes a credit card to be declined?
If you have the same problem, we are here to help you. We want you to have the best customer experience when purchasing from our online store but cases like this can happen.
In this article, we will answer questions about why my card is being declined. It's applicable not only when shopping here at CompAndSave but also for other merchants. You will also get tips on how to fix it and how to avoid having the same problem. First, let's enumerate the possible credit card rejection reasons.
Why is My Card Being Declined?
This list includes the seven most common reasons for what causes a credit card to be declined, starting with the most common reason - the mismatched shipping and billing address.
1. Mismatched Shipping and Credit Card Billing Address
This is one of the most common reasons for why is my credit card declined here at CompAndSave. On the checkout page, there are billing and shipping address sections. Make sure to remember these important points to avoid declined payments:
The billing address on the checkout page should match the billing address of your credit card.

The shipping address at checkout can be at a different location. It doesn't need to match your billing address.

Your credit card provider will check the address line 1 and zip code on your billing address. If the addresses do not match, the transaction will be declined.

Typos can happen, especially when you're in a hurry. Recheck the information you submitted if everything is correct and rerun your card.

Take note of any update on your billing address to avoid declined transactions in the future.
2. Reached Credit Limit
One common reason for declined cards is reaching the maximum limit. Let's say your credit limit is $3,000 and you have an unpaid balance of $2,500, and you're trying to purchase an item worth $1,000. In this scenario, it's best to check how much balance you actually have. It's also wise to keep track of your expenses and what's left of your balance to avoid the same situation. The only resolution is to pay off the debt first before making another purchase.
3. Fraudulent Transactions
It's excellent that credit card companies decline your card if there's suspicious activity. It protects you from unauthorized transactions. But what if it's a legit purchase? You may feel frustrated at some point. The usual reasons for tagging some transactions as frauds are costly purchases and changing location. A quick call to your bank asking about the declined payment can resolve the issue. Inform them that the purchases are authorized.
4. Transactions on Hold
Why is my card being declined? A common reason that we usually don't notice is transactions on hold. Have you recently rented a car or checked in at a hotel? These types of merchants will usually put a hold on your account. The hold will return to your account after checkout or once you return the vehicle. While this hold is in effect, your available credit may be lower than expected. If you charge more than is available, your card may be declined. You can communicate with the merchant to check if they can lift the amount on hold.
5. Expired Card
Your card's expiration date can either be indicated in the front or back. You may feel like you know this information by heart, but it's also pretty common to miss it. When your credit card is about to expire, your card issuer will generally give you a new card before the old one expires. Check the expiration date on your card and keep an eye out for an email or letter from your issuer. If you discover your card is about to expire, you should contact your bank right away.
6. Traveling
While traveling in a different state, city, or country, making transactions with your credit card may alert your bank. Card providers often see transactions at many locations over a short period to hint that your card has been stolen. You can simply call your bank to inform them that the purchases are authorized to resolve this matter. You can also inform them ahead of time when you're traveling to avoid hassles in the future.
7. Missed Payments
If you haven't made your credit card payments on time, your bank may put a hold on your ability to use the card. In that instance, calling the card provider and explaining your circumstance is the best course of action. They'll be able to tell you precisely what you need to do to bring the account up to date. You can phone your credit card issuer and discuss available options for missed payments.
What to do if Your Card is Declined?
It can be a frustrating experience when your card gets declined, especially when you're making a necessary purchase. Take a deep breath. There are several steps you can take to resolve the payment declined issue.
Step 1: Double-check the information you submitted if it's correct.
Step 2: Check if your billing information is accurate. Make sure you're using the zip code associated with your billing address.
Step 3: Contact the customer service number of your bank. The contact number is usually located at the back of your physical card. Talk to them about the problem and ask about the declined payment.
Step 4: Use other modes of payment. At CompAndSave, we accept payments from PayPal, PayPal Credit, Amazon Pay, or Gift Cards.
How to Avoid Your Credit Card Getting Declined?
There are best practices you can take to avoid credit card rejected problems. These are the simple steps you can do to prevent a denied credit card when using it for future purchases:
Always update your billing information if you recently changed your address or mobile number.

You can sign-up for account alerts via mobile or email. It will help you keep track of your balance and spending. Unauthorized transactions are also easy to spot if you have alerts.

Inform your card issuer if you have plans to travel or if you're moving to a different city. In this way, you can avoid

declined transactions

made in a different location.

Be aware of merchants that usually put holds on your credit card. It can be a hotel, car rental services, or a gas station. Ask them about their policies, so you will know what to expect.

Pay your account balance on or before the due date and in the total amount. Aside from having peace of mind, it will improve your credit score.

Talk to your bank if you're going through financial difficulties. Your credit card company can arrange a customized payment scheme, especially if you have good standing with them.
We hope you found the answer to your declined payment issue. Do you need to speak to our customer service staff? Talk to us at 1-833-465-6888, which is available from 6 a.m. to 6 p.m. PT Monday through Friday. We would love to know how we can help you further.